Mr Matthew Tutton BSc MS FRCS
Laparoscopic and General Surgeon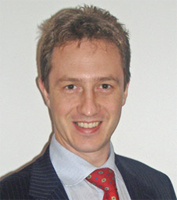 Mr Matthew Tutton
Matthew Tutton is a consultant general surgeon with a specialist interests in laparoscopic (keyhole) surgery and endoscopy. He is the clinical lead for general surgery at Colchester Hospital University Foundation Trust, a national training unit for advanced laparoscopic surgery.
Surgical Background
Matthew Tutton graduated from the United Medical and Dental Schools of Guy's and St Thomas' Hospitals, London in 1995. He is a Fellow of the Royal College of Surgeons of England and has a Master of Surgery Degree from research in colorectal cancer at the Institute of Cancer Research. He has undertaken travelling fellowships to the Mayo clinic and the Weill Cornell Hospital in the USA as well as to the National Cancer Institute, Tokyo, Japan. He underwent training in TEMS at the Wolf Education Centre in Knittlingen, Germany. He was appointed as a consultant surgeon at Colchester Hospital University Foundation Trust in 2006.
Current practice
Matthew Tutton is a specialist in laparoscopic general and colorectal surgery and has been a trainer on the national laparoscopic training program (LAPCO). He leads the regional transanal endoscopic microsurgery service (TEMS) for the Essex Cancer Network for the treatment of large rectal polyps and early cancers and runs TEMS training courses. He is also interested in enhanced recovery programs, which speeds recovery after surgery and has lectured on this at national meetings.
Research and teaching
He has presented many national and international papers related to his research and published papers, book chapters and presented internationally on topics including laparoscopic hernia repair, training in laparoscopic gallstone surgery, laparoscopic bowel surgery, and enhanced recovery. He is the principle investigator for the TEMS TREC trial at Colchester Hospital and has presented his work on TEMS both at the Japan Society of Coloproctology meeting, Hamamatsu, Japan, and at the Society of American Gastrointestinal and Endoscopic Surgeons meeting in San Diego, USA. He is a member of the ICENI training unit at Colchester. He has held honorary senior lecturer contracts with St Mary's University of London and also the Anglian Ruskin University.
Please visit Mr Matthew Tutton's perosnal website www.essexgeneralsurgeon.co.uk